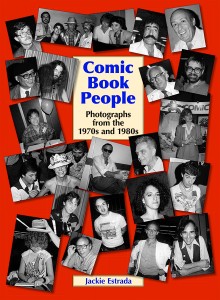 Exhibit A Press publisher Jackie Estrada's  Kickstarter campaign to fund Comic Book People: Photographs from the 1970s and 1980s has been successfully funded. The book is now in production, with the plan to have copies available at Comic-Con in San Diego in July. The official publication date will be September 2014.

This high-quality hardcover coffeetable book will contain some 600 candid photos of comics creators and related folk that Jackie took in the 1970s and 1980s.
The book combines two of Jackie's lifelong passions, comics and photography. She has been a comics fan since the 1960s and has been to every San Diego Comic-Con, as well as to numerous other comics, science fiction, and similar fan events over the last four decades. Her involvement in comics has included editing publications for Comic-Con, serving as the administrator of the Will Eisner Comic Industry Awards since 1990, and has been publisher, with husband Batton Lash, of Exhibit A Press since 1994.
Estrada's passion for photography also goes back to the 1960s, when she learned to shoot and develop film in college. In the mid-1970s she began serious study of photography and became part of the local San Diego photography scene. In particular she was noted for her photos of the punk rock/new wave scene of the late 1970s and early 1980s. But she has primarily specialized in photos of the comics scene.
Her photos of comics creators have appeared in numerous books and publications, from Paul Levitz's 75 Years of DC Comics and Julius Schwartz's autobiography Man of Two Worlds to Alter Ego and Comics Buyer's Guide. Most prominently, dozens of her photos were used in Dark Horse's Comics: Between the Panels and in Comic-Con: 40 Years of Artists, Writers, Fans, and Friends. Most recently, her photos could be seen in the PBS special on the history of superheroes.
"Through my friends at Webble, I had the opportunity for thousands of my negatives to be digitized in high-quality scans, and I thought this would be the perfect time to put together a book," says Estrada. "To make it manageable, I'm focusing on shots from the 1970s and 1980s. But it's still going to be hard to narrow the choices down."
As the Kickstarter campaign description notes, "These are rare shots from the days before comics and conventions were big pop culture events, when the founding fathers of the artform were still among us and today's top talents were just aspiring young pros trying to get noticed. If you were there, this is a great way to recall fond memories. If you weren't, these photos are a candid and unfiltered picture of a simpler time, familiar but far away."
The candid photos depict not only Golden and Silver Age comic book greats and mainstream creators of the period but also publishers and editors, underground and alternative cartoonists, big-name fans, comic strip cartoonists, animation directors and voice actors, science fiction and fantasy authors, and movie and TV celebrities. A few samples are presented here.
You can read interviews with Jackie about the book at Comic Riffs, Bleeding Cool, and Comics Creator News.