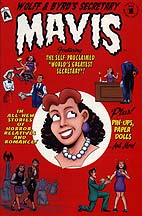 Taking phone calls from banshees, setting midnight appointments for vampires, cleaning up the waiting area after a visit from a swamp monster — they're all in a days work for Mavis Munro, secretary to Wolff & Byrd, Counselors of the Macabre. But now, in her first ever solo comic book, she's got to face the things that really scare her: relatives, friends, and a marriage proposal!
This all-ages one-shot evokes Archie-style comics and the popular "gal" comics of the 1940's and 1950's, such as Patsy Walker and Mille the Model.
Along with the self-contained story, readers will be treated to Mavis paperdolls by Barbie artist (and longtime Katy Keene aficionado) Barb Rausch, and pinups by the likes of Terry Moore (Strangers in Paradise).
"In coming up with the idea of this comic, I was definitely inspired by the great Dan DeCarlo," says writer/artist Batton Lash. "I've also always wanted to put Mavis in the spotlight and give readers a little more insight into her personal life."
Lash doesn't want to give too much away about the story, but he says readers can expect antics in the W&B law offices, a graveyard, and, scariest of all, Mavis's hometown of Astoria, Queens.