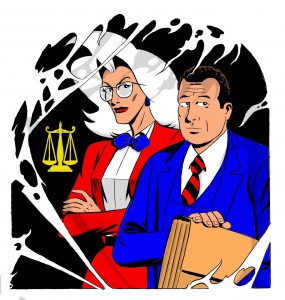 Beware the creatures of the night — they have lawyers!
Yes, even monsters need lawyers. And the law firm that specializes in this unique clientele consists of
Alanna Wolff
and
Jeff Byrd, Counselors of the Macabre
, with the assistance of their secretary,
Mavis.
Alanna and Jeff have been taking on supernatural cases since 1979, when they first appeared in
The Brooklyn Paper
. From 1983 to 1997
The National Law Journal
ran the weekly strip. Although Wolff and Byrd made occasional appearances in comic books over the years (
Mr. Monster, Munden's Bar Special, Satan's Six
), the partners didn't get their own comic book until May of 1994. Published by Exhibit A Press, the series was published bimonthly, with all stories are written and drawn by the strip's creator,
Batton Lash
. Originally titled
Wolff and Byrd, Counselors of the Macabre
, the title changed to
Supernatural Law
with issue 24. The last individual issue was #45. The series subsequently appeared online as a webcomic, hosted at webcomicsnation.com. That site was discontinued in late 2013. The webcomic is set to return at a new location in fall of 2014. Meanwhile, stories that appeared online are available in book form, including
The Life-Partner of Frankenstein
The Werewolf of New York
and the upcoming
Zombie Wife.