Comedian David Brenner's passing had me reflecting on years past, not only because he was a very funny man, but that I once had an odd peripheral connection to him.
Of course, the news of the comedian's death was sad to hear; once a ubiquitous presence on television (there was a point where it seemed that Brenner would be the successor to Johnny Carson as host of the Tonight Show), he kind of fell off my radar in recent years (the last I recall hearing him was on Howard Stern's radio show in the late 90's). Brenner was always a dependably funny performer. He was a pioneer of "observational humor" that would be eventually be perfected by Jerry Seinfeld.
My "association" with Brenner began when I was in my 20's. People– total strangers! –would walk up to me and ask if I was David Brenner. No kidding. And lots of times, when speaking to someone I just met, I'd be interrupted and asked, "Did anyone ever tell you that you look like David Brenner?" Please stop for a moment and compare the photo. That's me in 1979 and David Brenner in 1979. Separated at birth? I think not.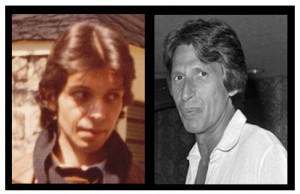 I had an opportunity to see Brenner perform in June, 1974. While he was definitely a rising star, Brenner was still "approachable" and not above playing smaller venues, such as The Metro, a small nightclub on West 4th Street in New York's Greenwich Village. The Metro was owned and managed by an impresario named Steve Phillips. The Metro headlined then-hot comics Ed Bluestone and Chris Rush as well as comedians Gabe Kaplan, Jimmy Walker, Richard Lewis, Andy Kaufman and Richard Belzer, before they hit television fame.
I met Steve through his sister Marla, who, like me, was a student at the School of Visual Arts. We were in the same first year classes and she'd often tell me about her brother's club. Marla was well aware of people commenting on the David Brenner resemblance, so when my dubious doppelganger was going to do a set at The Metro, she just had to see the both of us together in the same room.
And Marla got her wish, even if we were sharing that room with dozens of people who gladly paid a cover charge to hear David Brenner make them laugh. And that's exactly what he did. Brenner had a very easy-going approach; you got the impression he really enjoyed himself and enjoyed telling us his stories, as he often chuckled before he delivered the punch line. I recall two routines from that evening that I found very amusing and very clever. One was David ruminating about germs and how easy it was to catch a cold. But, he speculated, imagine if something like, say, obesity was contagious? A heavyset person is next to you on the subway and by the time you get home, you feel a few pounds coming on. The other was a bit about mosquitoes that Brenner closed the set with: he said male mosquitoes buzzed but they don't bite; so if you're in bed and hear one buzzing around, don't worry. However, female mosquitoes make no sound, and they bite. So the next time, when you're lying in the dark and you hear absolutely nothing… (a beat)  Thank you and good night, everyone!
Everyone laughed uproariously and applauded. Brenner was clearly in his element. I admired his pluck, as well. Mid-way through Brenner's routine, he made a mention of then-President Nixon, who was facing possible impeachment for his involvement in the Watergate scandal. Brenner said, as an aside, "Y'know? I think he's innocent." Someone in the audience yelled out "Boo!" Brenner shrugged to the response and said, with a chuckle, "I just said my opinion. Obviously you did, too!" It was a testament to the good will and cordial relationship Brenner had with his audience that his "current event" moment– right there in the heart of Manhattan's Greenwich Village– didn't sour his act by defending such a polarizing figure as Richard Nixon (who, within two months of that evening's performance, would resign from office). Brenner moved on and delivered the rest of his routine to the delight and pleasure of everyone in attendance.
Afterwards, Brenner stuck around and schmoozed with, well, whoever wanted to chat. Marla brought me face-to-face with the comedian and introduced me, adding, "David, everyone says my friend here looks like you!" Like a shot, Brenner squeezed my shoulder and said– chuckling– "He should be so lucky!"
I had a great time. Lots of laffs (and that's the best kind!). It was the first time I ever attended a comedy club. And David Brenner himself dismissed the semblance between us! I was thinking of how much fun the evening was as I rode the subway back to Brooklyn.
I saw David Brenner in person just one other time; it was on a movie line in Manhattan during the 80's. He was just a few feet in front of me, waiting on line like everyone else. I wasn't going to remind him of our meeting at The Metro– I doubt he would recall that. Besides, he looked like he was having too good of a time with his date, a tall, brunette, drop-dead gorgeous woman who looked like a Saks 5th Avenue model wrapped in her fur coat. I certainly wasn't going to interrupt that! For the hour we waited for the box office to open, no one pointed to Brenner and said to me (or approached Brenner and pointed to me), "Hey, you look like him!" Actually, by that time, people who said I looked like Brenner had tapered off. Now, people­ –total strangers! –would come up to me and say "Did anyone ever tell you that you look like Garry Shandling?" And so it goes.
According to the Book of Lists, at the peak of his career, Brenner had appeared more often on major TV talk shows than any other entertainer. Not bad for a guy who grew up in the slums of South Philly. What more can I say? The world of comedy lost a very funny man. There's nothing I could add, except . . . (a beat) Thank you and good night, David!