It's been ten years since Will Eisner left us. To commemorate his memory, I'd like to share a tribute I wrote for Jon Cooke's Comic Book Artist at the time of Will's passing. I reworked and added a couple of details, but the sentiment remains the same.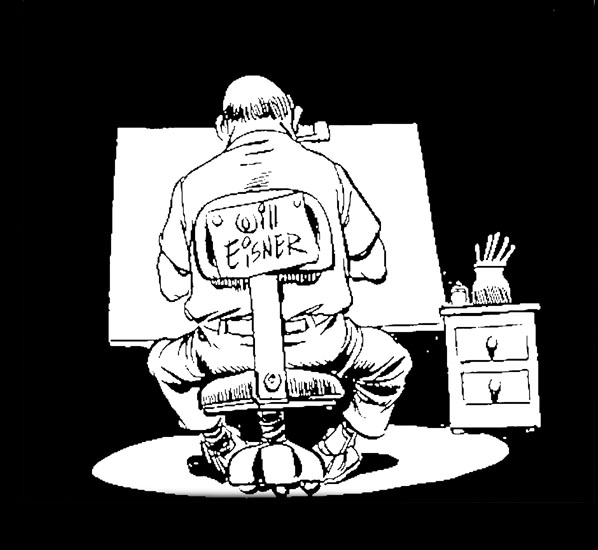 I first discovered the work of Will Eisner via The Spirit in my high school library, thanks to Jules Fieffer's The Great Comic Book Heroes. As a fan, I noticed a lot of my favorite comic book artists would cite Eisner as an influence, while fanzines would describe certain artists taking an "Eisneresque" approach to layouts. At one of the first conventions I attended, Eisner's name was evoked with a hushed reverence by a panel of pros. I just had to learn more about this Eisner guy!
As an aspiring cartoonist in the early 70s, I studied The Spirit reprint in Steranko's History of Comics and Kitchen Sink's "underground" revival. I eventually became one of Will's students at the School of Visual Arts. It was in his class that I began to rethink and reevaluate my perception of the comics medium. Will was a friendly instructor, but firm. He gave you his honest assessment of your assignments—for better or worse! Many years later, when I became a comics professional, I was heartened and gratified to get Will's "blessings" and unwavering support on Supernatural Law—but not without a no-nonsense critique of each issue! Will was on my comp list, and every time he saw me at a convention following a new issue, he'd come over and tell me what the strong and weak points of the issue were. Will must've been on countless comp lists, yet it was obvious that he had actually read my comic, because he would mention passages, plot twists, and characters in the specific story he was critiquing. I still felt like I was in his class—not that I minded. I was still learning from him!
 My wife Jackie and I both enjoyed Will's company and friendship. Will had known Jackie independently of me (in fact, I had just met her a few weeks before the 1990 San Diego Comic-Con and was there at the Spirit 50th anniversary party when Will first approached her about being the administrator of the Eisner Awards!). Will was very much a part of our lives. He was more than generous to us with his time, advice, guidance and wisdom. Will and his wonderful wife, Ann, welcomed Jackie and I into their home several times and treated us like friends and colleagues. I couldn't believe that the guy whose work I first saw in my high school library was schmoozing with me about comics and life in general by his pool over lox and bagels! I considered myself very fortunate.
 Anyone who ever met Will or saw him at a convention, lecture, or personal appearance couldn't help but be impressed by his infectious energy, enthusiasm and optimism. If Will had only The Spirit to his credit, his position in the comics pantheon would be secure. But at the age of sixty, he reinvented himself with the semi-autobiographical  A Contract With God, ushering in the age of the graphic novel. It was also a harbinger for a time when the comics form would be accepted and taken seriously by the culture at large (indeed, the news of Will's death made the front page in major newspapers around the country, including The New York Times and The Los Angeles Times).
 Will's contemporaries recall that even in the rag-tag early days of the comic book industry, when artists looked at comics as the bottom of the barrel or a stepping stone to other media, Will was telling anyone willing to listen that comics was a legitimate art form, a worthy medium for an artist. He talked the talk and walked the walk. He was always upbeat in a volatile industry (he had very little patience for doom-sayers; one of my favorite quotes of his regarding the demise of comics was "I've seen this business die five times already!"). For all the acclaim heaped upon him, he was modest; distinguished, yet self-deprecating. He took his work seriously, never himself. I saw Will, time and again, when approached by nervous young neophytes cartoonists, put them at ease, not by tooting his own horn, but by asking about their work. A true gentleman; a mensch. A favorite memory I have is when Will was a guest at Bethesda's Small Press Expo (SPX). When he was introduced at the awards ceremony, the entire room filled with scores of comic book artists in their early twenties, weaned on alternative comics, leaped to their feet to give Will a standing ovation. After browsing the exhibit rooms, and examining the work of the young cartoonists, Will said to me, "There's a lot of terrific work in there! I've got to get back the drawing board!" And that was no false modesty. Will was never satisfied with the past; he felt he was just getting started as far as his work was concerned. For him, the possibilities the comics form held was endless.
 When a man is well into his eighties, his passing should come as no great surprise, right? But this was Will Eisner. For 60+ years, he always looked ahead, being innovative, producing, and creating. And with such energy! Will had great faith in the medium he helped pioneer. He always believed that passion for comics was far too powerful for anyone to let the medium slip away. The Comic Book Legal Defense Fund's Charles Brownstein described Will as comics' very own Moses; he died before seeing the Promised Land. Consider how far comics have come into its own as an art form in both content and respectability since January 3, 2005.
 It's been ten years since Will Eisner left us, but he is still very much with us. Will's devotion to his art and endless faith in the comics' potential remains and continues to inspire.