Jackie Estrada's Comic Book People 2 Provides Unique Peek at the Comics Indusry in the 1990s
As a follow-up to 2014's well-received Comic Book People: Photographs from the 1970s and 1980s, longtime comics industry insider Jackie Estrada ran a successful Kickstarter campaign to fund Comic Book People 2: Photographs from the 1990s, now available in fine comics shops and bookstores, as well as right here from Exhibit A Press.

Both books offer a unique peek at the early days of comics conventions before they were big pop culture events, when the giants of the industry mingled casually with their peers and fans.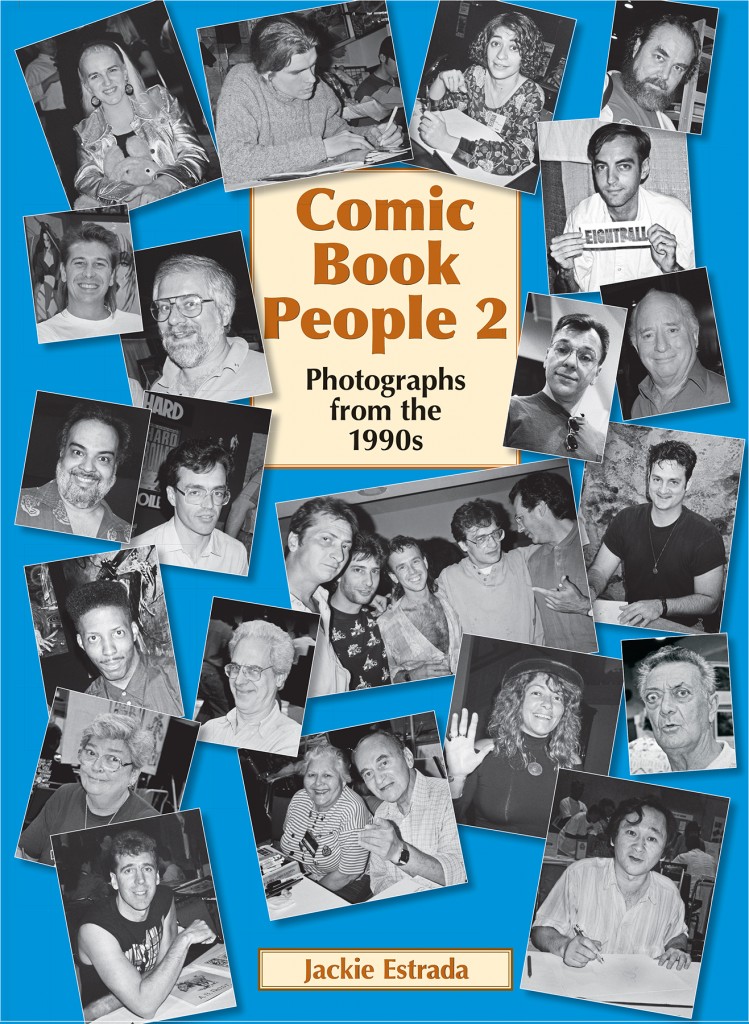 The high-quality hardcover coffeetable book features some 600 candid photos taken at comic conventions in the 1990s, along with commentary and anecdotes about each person. The book is 160 pages, including a 16-page color section.
"While the first book focused primarily on the San Diego Cons of the 1970s and 1980s, this one gives a glimpse into comics industry in the transitional era of the 1990s," says Estrada. "This was the period when Image emerged, lots of new publishers got into the mix, and the self-publishing and indie comics movements really took off." She notes that a number of Golden and Silver Age creators were still with us, and she includes photos of folks like Frank Frazetta, Carmine Infantino, Gene Colan, Al Williamson, Sheldon Moldoff, and Nick Cardy, to name a few. But it was also a time for new faces that are now familiar fixtures, such as Neil Gaiman, Grant Morrison, Jeff Smith, Terry Moore, Colleen Doran, David Lapham, and Paul Pope.
It was during the 1990s that Estrada and her husband Batton Lash formed Exhibit A Press to produce his comics series Wolff& Byrd, Counselors of the Macabre (aka Supernatural Law). Many of the photos in Comic Book People 2 were taken at shows where they exhibited, from the Chicago Comic-Con and WonderCon to the Small Press Expo and APE, as well as from the San Diego Comic-Con.
Jackie has been both a comics fan and a photographer since the 1960s, and she has been to every San Diego Comic-Con. Her involvement in comics has included editing publications for Comic-Con, serving as the administrator of the Will Eisner Comic Industry Awards since 1990, serving as president of Friends of Lulu, and being the co-publisher of Exhibit A Press. Her photos of comics creators have appeared in numerous books and publications, from Paul Levitz's 75 Years of DC Comics and Julius Schwartz's autobiography Man of Two Worlds to Alter Ego and Comics Buyer's Guide. Most prominently, dozens of her photos were used in Dark Horse's Comics: Between the Panels and in Comic-Con: 40 Years of Artists, Writers, Fans, and Friends. Most recently, her photos could be seen in the PBS special on the history of superheroes. You can read all about Jackie's life as a "geek girl" on the Geek Girl Project blog. And you can read an interview with Jackie about the 1990s on Newsarama.

Here is just a sampling of some photos that appear in the book.