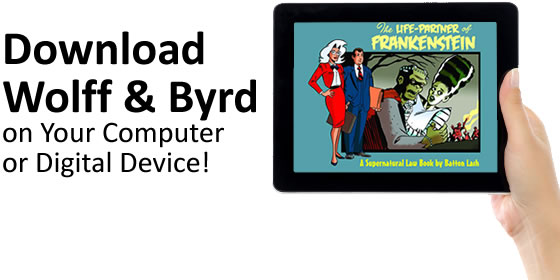 You can now download Supernatural Law titles to your iPhone or iPad! a
Comics+ has the first 16 issues of Wolff & Byrd, Counselors of the Macabre (originally published in 1994-1997) and Supernatural Law issues 41-45, complete with covers, editorials, letters pages, and pinups, for just 99 cents each. You'll also find the out-of-print books Tales from the Vault, The Gods Must Be Litigious, and Life Partner of Frankenstein at only $1.99 each!
Comics+ is an app from iVerse Media. With its unique uView interface, users can  create cinematic reading experiences directly on their iPads for their personal collections. This app has comics from DC, Marvel, and all your other favorite comics publishers. Using the uView editor, anyone can create a uView experience for his or her comics in just a few minutes and save it for future use. To learn more and download the app, visit comics+. Then look for titles published by Exhibit A Press. Wolff & Byrd #1 is available for free, so try it out now!