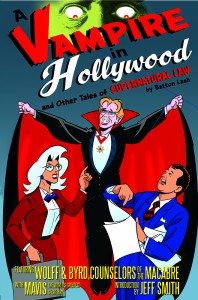 A Vampire in Hollywood, And Other Tales of Supernatural Law
by Batton Lash
Introduction by Jeff Smith
September 2016, 192 pages, b/w interior
Kickstarter Amount raised: $13,686
Campaign ended March 10
Batton and Jackie would like to thank everyone who backed and plugged the Kickstarter campaign that will make publication of this book a reality!
A Vampire in Hollywood is volume 7 in this ongoing graphic novel series that mixes humor, horror, and the law to produce a unique and entertaining reading experience. The previous six volumes collect Supernatural Law issues 1-40 and the spinoff series Mavis 1-4. This volume collects issues 41-45 and Mavis 5.
Funds raised will be used to complete the production work (preparing files for the printer); pay for the printing, shipping, and storage of the books; and cover production costs of backer premiums.
Backers of the project could sign up to become the Hollywood player their choice, from gaffer to publicist to producer. At the "Supporting Player" level, for instance, they will get a set of six postcards depicting the covers of the six comics included in this collection. To get the book (signed by Batton) with the set of postcards, they chose the "Key Grip" level. Those who wanted a personalized drawing in your book, selected the "Special FX" level.
Among the premiums and add-ons available to backers were other volumes in the Supernatural Law series, French and Spanish editions of the first volume, T-shirts, a 2017 calendar, and customized original paintings by Batton.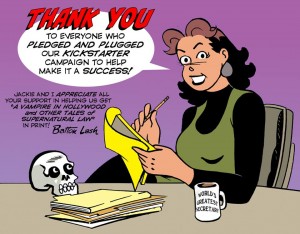 What they've said about Supernatural Law:
"Batton's keen sense of humor is what makes his work so good and so enduring."
—Will Eisner
"Supernatural Law gets me laughing out loud every time!"
—Frank Miller
"Wolff & Byrd is funny and smart. . . . the finest funny supernatural fiction ever created."
—Neil Gaiman
"Few things in life turn out be a reliable source of intelligent delight. Supernatural Law has a secure place on that short roster."
—Michael Chabon
"Supernatural Law is so good, so much fun, such an accessible, dynamite concept that I can't figure out why it hasn't been snapped up and turned into a TV series or a smash-hit movie and maybe even a theme park ride or two."
—Jonathan Ross
British talk show host and comics fan
"I like Wolff and Byrd because they tend to do the right thing. They take on the system on behalf of the outcasts, the "different" ones, the rejects . . . They defend the sanctity of the individual and (as long as he, she, or it doesn't initiate force) the right to be different."
—F. Paul Wilson
"At first blush, a book about lawyers representing classic monsters might be suspected of being as broad and slapstick as my cherished "Abbott & Costello Meet Frankenstein." But instead, Batton has derived humor out of characters and those characters continue to grow and evolve, refusing to remain one-joke sitcom stars or pre-Stan Lee cardboard comic book heroes. There is not only humor in his work, but satire, sarcasm, and parody. It's all just so damn clever, and has been so for more than thirty-five years."
—Michael Uslan