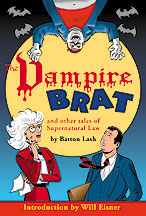 A brand-new trade paperback, collecting Mavis #2, Wolff & Byrd, Counselors of the Macabre #23, and Supernatural Law #24-29. Wolff & Byrd's clients in these issues include Buford, the teenage vampire brat who fears "Myrtle, the Vampire Slayer"; the ex-wife of a Vincent Price-type mad scientist ("Black Market Souls"); a time traveler who literally crashes Wolff & Byrd's holiday party ("Fashionably Late"); and a young boy who seems to be the only one who can control a rampaging purple monster ("H—k Smash, Lawyers Sue!"). In the same deluxe format as Sonovawitch!
Introduction by Will Eisner. Great for holiday gift giving!
Click here for a Six-Page Preview of one of the stories in this collection: "Black Market Souls" (Issue #26)!