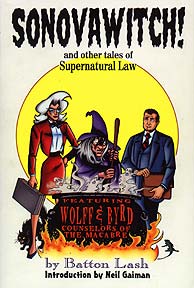 This 176-page trade paperback contains issues 17-22 of Wolff & Byrd, Counselors of the Macabre, along with the first issue of Mavis.
The main story in the book, "Sonovawitch!", concerns a lonely single guy who is sued for "hexual harassment" after his mom (a witch), puts a spell on one of his employees to make her fall in love with him. The original comic book issues were nominated for a Bram Stoker Award, given by the Horror Writers of America. Lash was also nominated for a Will Eisner Comic Industry Award as Best Writer/Artist—Humor for the Sonovawitch issues.
The attractively produced trade paperback contains several other cases from the files of Wolff & Byrd, featuring such clients as a physician who specializes in reviving the dead; a hunchback accused of teaching Satanism to preschoolers; a vampire henchman for the Nosferatu crime cartel; a Japanese priest who guards a jewel that can unleash the power of a giant reptilian monster; and a nice guy whose soul has accidentally possessed the body of a demon.
The introduction is provided by Neil Gaiman, award-winning author of such books as Stardust, Neverwhere, and the Sandman series. Gaiman writes, "Batton Lash's delicious Wolff and Byrd tales are the finest funny supernatural fictions ever created, and one of the best legal soap operas out there."
For an in-depth review of this book go to D. Aviva Rothschild's graphic novels review site at Rational Magic.com.