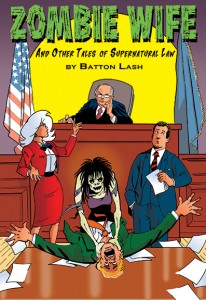 Just in Time for Halloween: Batton Lash's Zombie Wife
New this week: Zombie Wife, And Other Tales of Supernatural Law, a 160-page full-color trade paperback that contains seven stories from Batton Lash's long-running series Supernatural Law. The title comes from the lead story, in which a woman comes back from the dead after her husband is acquitted of murdering her. She enlists attorneys Alanna Wolff and Jeff Byrd to initiate a wrongful death suit—her husband killed her, and now he must pay . . . damages!
Zombie Wife was funded through a Kickstarter campaign earilier this year.
All the stories in the book were originally serialized online at supernaturallaw.com. They include "Werewolves . . . And the Women Who Love Them" (in which a woman appears on the "Dr. Fill" show professing her love for werewolf "Larry T"), "A Vampire in Hollywood" (in which a fifth-generation vampire is lured to Hollywood for a biopic and ends being accused of murder), and "The Gods Must Be Litigious" (in which the Greek Immortal Medusa has written a bestselling book lampooning "mortals" and is sued by a heckler she turned to stone at a book signing).
The foreword to the book is by Michael Uslan, who is the originator and executive producer of the Batman/Dark Knight movie franchise. He has also produced a number of other films, has written comics including the recent Archie Marries Veronica, taught (with Roger Stern) the first accredited college course on the serious study of comics, and published his autobiography, The Boy Who Loved Batman, in 2011. In the foreword Uslan suggests, "Binge read this book! Sit down comfortably with ample time set aside and maybe a pizza nearby, and read the stories from cover to cover. Don't slip into the wacky wild world of Wolff & Byrd, plunge right into it, only coming up for air at the volume's end."